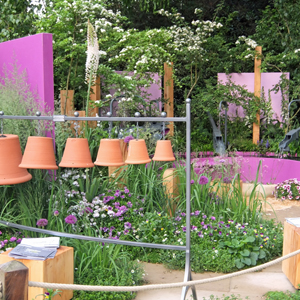 Bennington Metal Furniture helping disability charity to make Chelsea Flower Show history
We are preparing to make Chelsea Flower Show history! by supporting leading disability charity Papworth Trust's first Chelsea Flower Show. The Trust is working with world famous solo percussionist Dame Evelyn Glennie on their 'Together We Can' garden. It will be the first time the RHS Chelsea Flower Show has hosted an acoustic garden, which has taken the concept of a sensory and accessible outdoor space to a new level.
Our skilled metalworkers, carriages and metal furniture are synonymous with innovative design and exceptional quality, have been creating bespoke structures which will help transform the garden into a musical instrument amid a backdrop of natural woodland copse, interwoven with features that evoke the equipment of a recording studio.
Helen Fairhurst, senior marketing manager from Papworth Trust, said: "This is a unique project for the Chelsea Flower Show, our charity and Bennington. It is incredible to see the excitement the garden is already creating and the difference it can make to the people we work with."
Wendy Palfrey, Director of Bennington said: "We are delighted to have worked with Papworth Trust to bring their 'Together We Can' acoustic garden to life at this year's Chelsea Flower Show. The bespoke structures we have built will help Dame Evelyn Glennie to fill the garden with music throughout the show."
The garden will be unveiled to the public at the RHS Chelsea Flower Show between Tuesday 24 May and Saturday 28 May.
About Papworth Trust:
Papworth Trust offers essential support and care to disabled and older people, their families and carers.
They help people of all ages to live independently in their own homes, to learn new skills, and to find and keep jobs that are right for them.
They offer care, support and work services across the East of England and East Midlands including Cambridge, Ipswich, Leicestershire, Lowestoft and Basildon.
To find out more about the charity please go to www.papworthtrust.org.uk.