Testimonials
OCTOBER 2017 - BESPOKE REMEMBRANCE BENCH
Bennington recently made a bespoke memorial metal bench for our Founder. I found the company to be very helpful and understanding to our specific need. As we were designing the bench ourselves I found their staff very patience and extremely helpful with the design. They consulted me during the construction at every twist and turn to ensure that I was happy with progress. Our Bench arrived on time, in fact a day early, and at the price we had agreed. The quality of their work was outstanding and the attention to detail exceptional and they were a delight to do business with and provided a personal service that inspired confidence. I would certainly recommend them and use them again myself
Andy Butcher, Morden Little League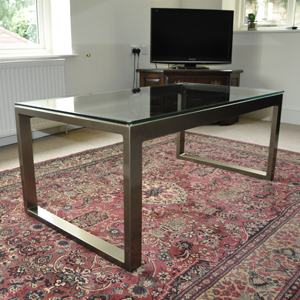 AUGUST 2017 - CUBE COFFEE TABLE
Many thanks for delivering the coffee table yesterday.
I am very pleased – it looks like it was made for the room – though of course it was! Your bespoke service is truely excellent.
I would recommend any one looking for high quality metal furniture to come to you.
Mrs S - Lincolnshire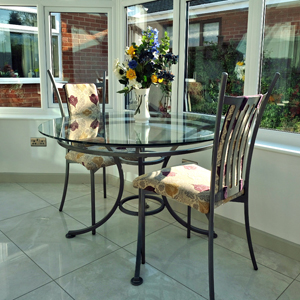 April 2017 - Tuscany Table & Tuscany Chairs with additional padded backs
"We found Bennington' on line and were impressed by their range of metal conservatory furniture so visited the showroom for a closer look. The furniture is of high quality and the owners were very friendly and could not do enough for us, bringing out various table and chair styles for us to try and taking care of us with pots of tea.
The Tuscany table and chairs we chose are ideal for our room, we requested that the chairs had an additional padded back and Wendy was happy to accommodate our request. The owners kept in touch with us throughout the process and the furniture was delivered on schedule. We couldn't be happier with the finished result and have absolutely no hesitation in recommending Bennington Metal Furniture.
Mr and Mrs P - Leicestershire"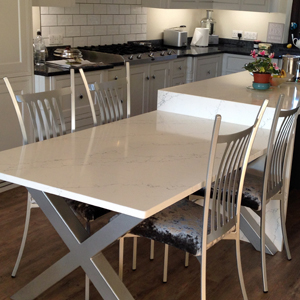 January 2017 - Cavaletti Table Base & Tuscany Chairs
"We needed table legs to support our granite table top and travelled over 2 hours to see what Bennington Furniture could do for us. On arrival we were greeted with a cup of tea and nothing was too much trouble for Wendy and her team. They altered the design of the legs they had on display to meet our very specific requirements and their "can do" attitude was very refreshing. We were kept constantly informed of progress and they kept to their word. The legs and frame are of exceptional quality. It has truly been a pleasure to do business with such an efficient and friendly company. We would have no hesitation in recommending them. They were quite a find."
Mr & Mrs P - Warwickshire
October 2016 - Inserted Granite Coffee Table & Shelf
Bennington recently made a metal coffee table for me with an inset flagstone top. I found the company on line and used them because I liked the look of their designs and their sensible, clear website. As I was providing the stone top myself, it was necessary to modify their design slightly. They were flexible and businesslike, and subsequently consulted me during the construction to ensure that I was happy with progress. They are a very professional company that produced exactly what I had asked for, on time and at the price we had agreed. I have been most impressed with them, not only for the quality of their work but also because they were a delight to do business with and provided a personal service that inspired confidence. I would certainly recommend them and use them again myself.
Mr F - Hampshire
September 2016 - Bespoke Milan Table & Windsor Chairs - Fixed Base
"We are delighted with our table and chairs. We particularly appreciated the assistance in finalising the design while the workmanship is of the highest quality"

Mr & Mrs S - Essex.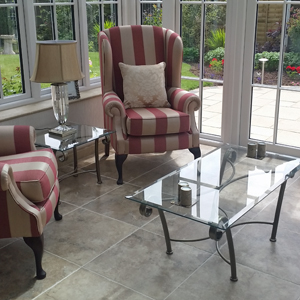 July 2016 - Bespoke size Sorrento Coffee Tables
We found Bennington's Metal furniture on the Internet and from the moment of our initial enquiry the quality of the customer service could not be faulted. We were booked an individual appointment where we were able to choose our tables. The advice given and attention to detail was first class and in addition we were given a tour of the workshop, which was really interesting.
We were kept informed of the progress via e-mail which included photographs at individual stages. This was to ensure we were happy with everything.
When we collected the finished tables we were delighted with the quality and they have complemented our furniture perfectly. Wendy and the team were a pleasure to deal with throughout.
Mr & Mrs B - Warwickshire.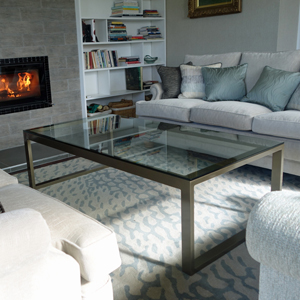 March 2016 - Bespoke Cube Coffee Table
"The lads have just delivered the table. It looks great, beautifully made and we're absolutely delighted!"
Mr & Mrs W - Shropshire
December 2015 - Windsor Dining Table and Chairs
December 2015 - Windsor Dining Table and Chairs
"The table and chairs are perfect, and has had a lot of use and many compliments"
Mrs K
December 2015 - Tulip Table & Padded Back Chairs
"We are very pleased with the Bennington Tulip table set. The central display bowl is very attractive and when not needed can be replaced by a simple finial. The chairs are comfortable and at the right height. We are happy to endorse the set. It is very good value for the price"
Mr & Mrs B
May 2015 - Tuscany Table & Windsor Chairs
"We are delighted with our table and chairs which really complement our conservatory and add a 'touch of class'. The chairs are very comfortable and both the table and the chairs are beautifully crafted and finished.
We were also delighted with the service that we received from Bennington Metal Furniture. Nothing was too much trouble and the table and chairs were delivered on time. So, we are very happy to recommend them.
Thank you again for your excellent service, we really are delighted with the table and chairs"
Mr and Mrs S
December 2014 - Windsor Dining Table, Windsor Chairs and Windsor Console
"Pauline and I are delighted with the dining furniture and it looks like it was always meant to be where we have put it. Thank you "
MD of The Sterlingham Co.Ltd