Furnishing your conservatory
When the sun shines and we get beautiful weather in the UK many people rush out to enjoy it, whether that be on a beach (if you're lucky) or in your garden. However some people are cautious of the sun's damaging effects but still want to be able to sit and enjoy it and where better to enjoy those sunnier days all year round than in your home conservatory – the perfect middle ground between your home and garden.

Even when the weather is unpredictable, relaxing in a conservatory enables you to enjoy the outdoors without getting a hair on your head wet – it's relaxing and peaceful particularly when you have comfortable furniture of quality, style and great value to settle into.

Getting more natural light can also banish those blues according to a recent survey, the results show that exposure to natural light can aid productivity and lead to happier and healthier lifestyles, offering benefits that artificial light doesn't, most notably reduction of eye-strain so having a good place to sit and enjoy the light is key.

At Bennington Furniture we offer style and sophisticated conservatory furniture designs without the hefty price tag meaning that you won't have to compromise on quality or comfort.

Our Blenheim sofa is our signature product, a timeless piece of metal furniture which we think showcases the best of British manufacturing. With its scatter back cushions and metal craftsmanship, it is also available in different metal finishes meaning that it will fit in with numerous designs and styles of conservatory whether you've opted for modern or period living.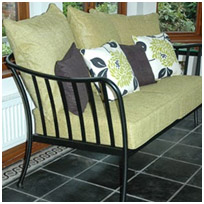 During the summer months many people like to entertain and when you have a conservatory this can often be the point where the most people congregate to socialise. Ensuring you have the very best quality pieces of seating here will ensure that your guests will be comfortable and enjoy the benefits of the outside without having to step outdoors.

By putting elegant pieces such as our Sorrento range into your conservatory you will also be utilising the space better and in turn adding value to your home by using it as another room. This piece has an innovative 'drop arm' meaning that it can be transformed into an elegant but traditional chaise longue so comfort is assured and style is compulsory
Our pieces of metal furniture are investments for years to come and should provide many moments of relaxation for all members of the family.

While our website contains an overview of our product range at Bennington Furniture we still invite you to come and view our comprehensive assortment of metal furniture at our showrooms. Our team of friendly staff are always happy to assist with purchases or questions regarding the correct fabric choice or furniture style to suit your needs. Contact us today.