Testimonials
Creating happy customers is at the heart of what we do and we're never happier than when we receive kind words that recognise the efforts of our skilled team. Below are some of the lovely words that we've received over the years which recognise our absolute commitment to making the best possible furniture and providing the best possible customer service.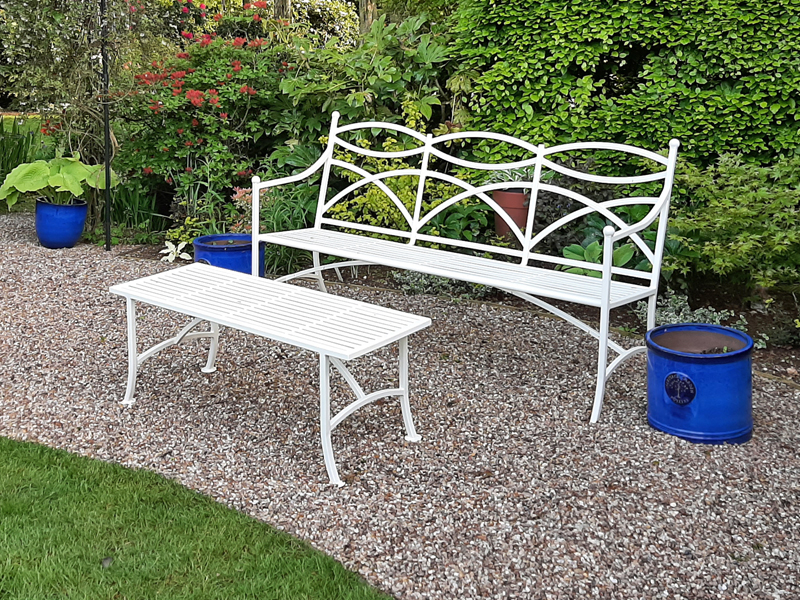 We are delighted with our furniture
"We are delighted with our furniture from Bennington's, it lights up a shady corner of our garden and while it looks delicate it is very sturdy and well made"
Mr & Mrs K – Warwickshire
Delighted with our Bennington Bar Back Windsor Chairs
"The four chairs and two carvers have improved the look and ambiance of our dining room greatly. On a practical level the chairs were all tested at Christmas and all guests were very happy with their comfort"
Mr & Mrs B – Warwickshire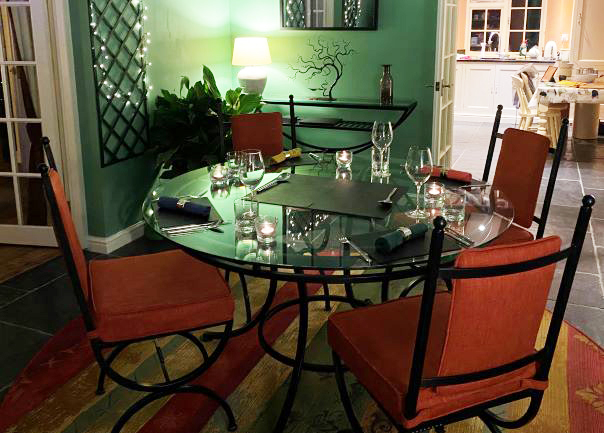 "The joy of working with a family firm"
" Had our first guests for dinner using the new furniture and thought you might like this photo.
The furniture looked wonderful and it is made all the more enjoyable because of the experience of buying it from you. Being able to change the designs, altering the dimensions and adding the shelf to the console table as well as the joy of working with a family firm who really care about service and craftsmanship made it even more special"
Mr & Mrs T - Cotswolds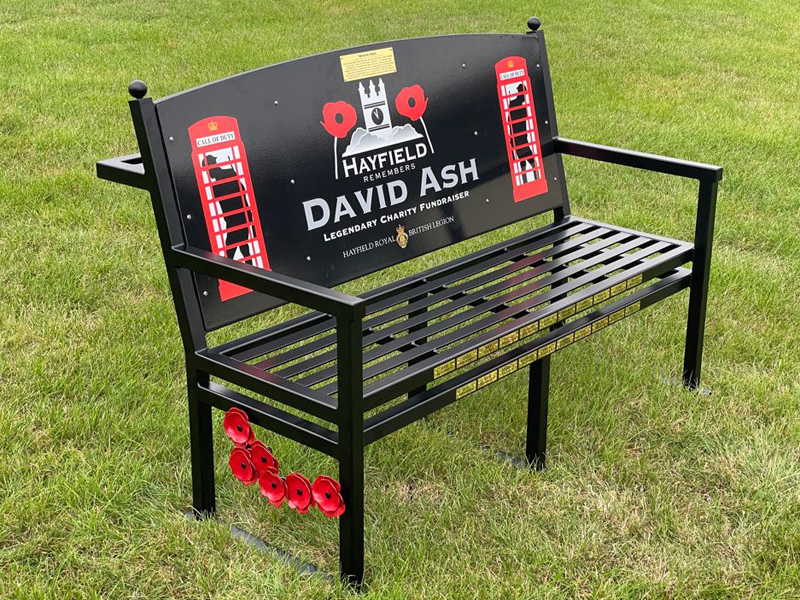 "THREE WORDS IN PRAISE OF BENNINGTONS - SIMPLY THE BEST!"
"I have raised much wampum over the years for charity with my wingman David Ash. Unfortunately David passed away in 2020 so we decided to get a memorial bench manufactured in his memory. The process was quite daunting until I came across Wendy at Benningtons.
We contacted eight companies and five got back to me via email, but it was only Wendy who followed it up with a phone call to explain the process - now that's what I call service, you know like we used to get in the old days when people actually talked to each other! Their quote was highly competitive but what impressed me most was their ability to talk me though it and "hold my hand" so to speak during the manufacture.
Having visited their showroom my mind was made up, they kept in constant contact during the fabrication and most importantly my mind was put at rest that we'd chosen the right company and indeed the result was stunning"
Mike Greensmith -Auctioneer, Village Idiot and Serial Charity Fundraiser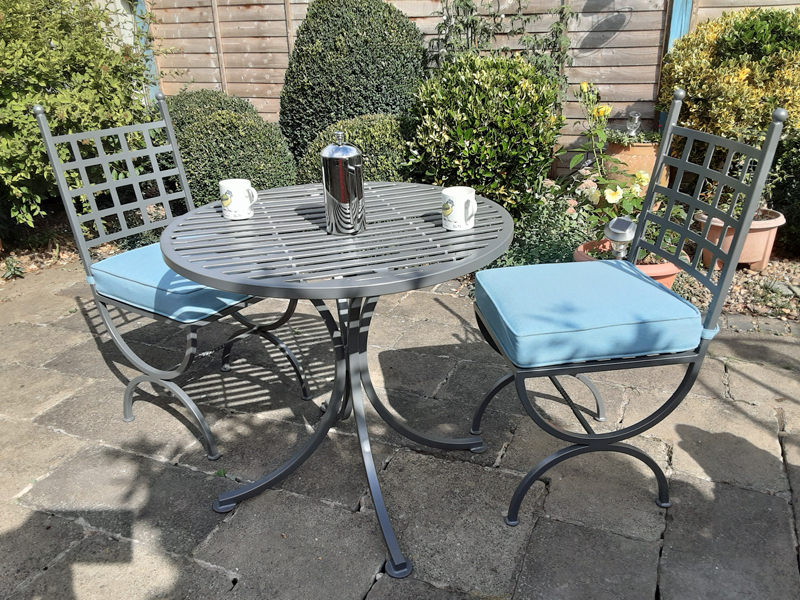 A perfect place to enjoy morning coffee
"My lovely new table and chairs have been much admired,so thrilled with them"
Mrs W - Leicestershire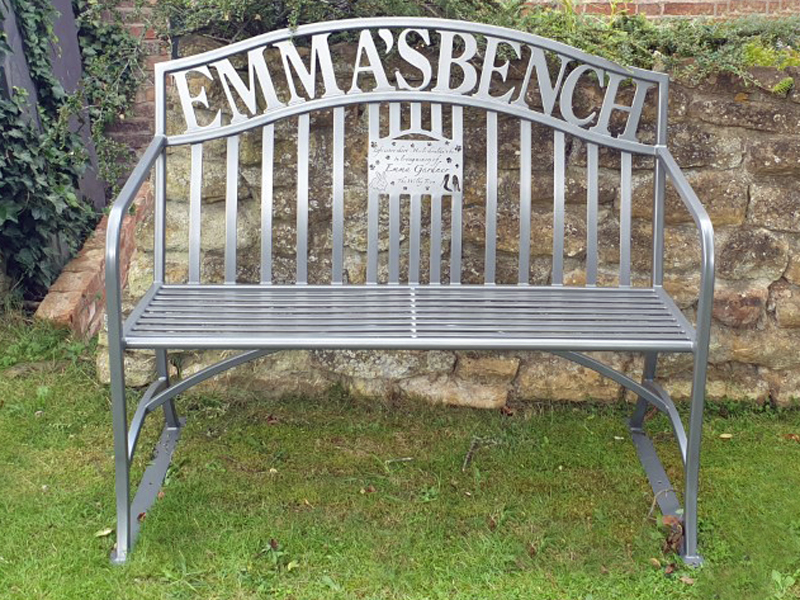 Bespoke bench in memory of Emma
"Whilst looking for a company to make a bespoke bench, we came across Bennington Metal Furniture. From start to finish Wendy was kind and helpful and kept us up to date with every stage. They were able to create a beautiful bench in memory of our Practice Manager, Emma. Thank you, it is everything we asked for"
The Welby Practice, Bottesford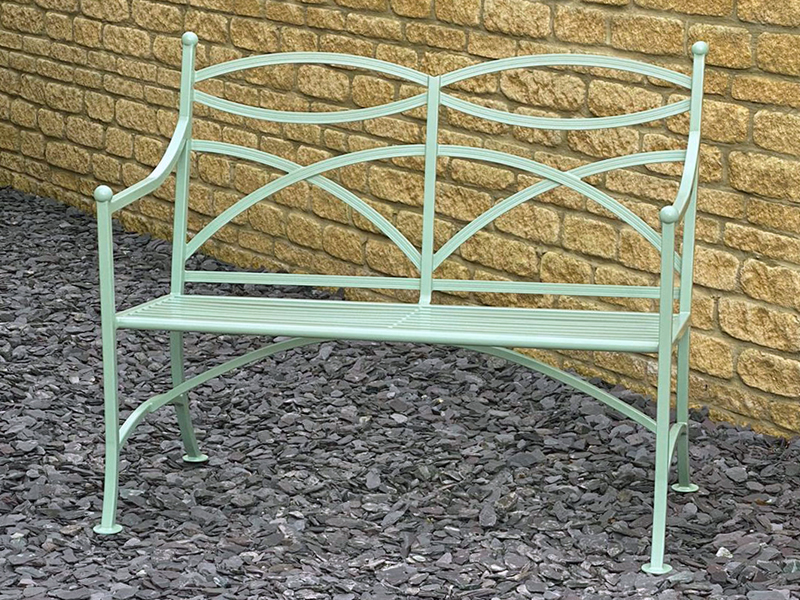 Chatsworth Bench
"I purchased the elegant Chatsworth Metal Bench from Bennington Metal Furniture after lots of looking around at alternatives that I felt were either too chunky or too ornate. This design struck a lovely balance for my garden. Bennington were so attentive in helping me source a colour too, that was outside of their usual range (a Cotswold green) and keeping me regularly updated as the bench went into production, then painted and finally delivered.
I was away from home for delivery and they kindly unpacked the bench, placed it where I wanted it and provided some photographs of it in situ. Such good customer service all round that I am really grateful for"
Mrs F - Worcestershire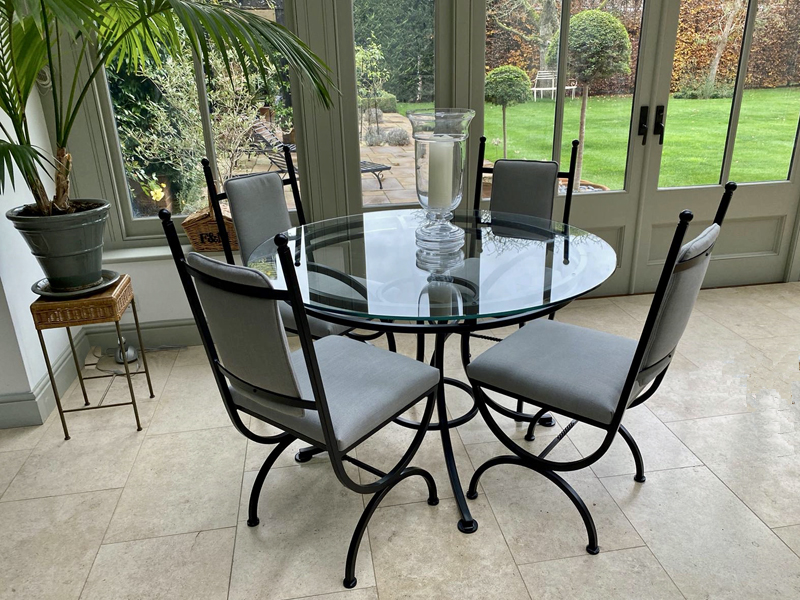 5 Star Google Review
Positive: Professionalism, Punctuality, Quality, Responsiveness
very helpful and professional company who delivered great furniture, on time, even in lockdown! I would highly recommend.
Mr S - Surrey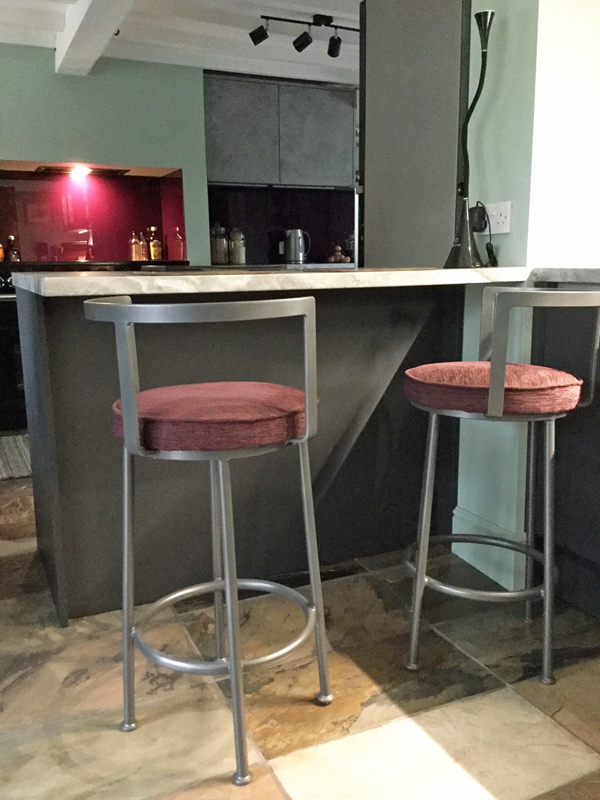 Bespoke Breakfast Bar Stools
'Delighted with our breakfast bar stools from the Bennington team, made to compliment our dining table and chairs bought nearly 20 years ago! From initial meeting, through design, testing the prototype, to final delivery we were met with a friendly, professional service - would definitely recommend'
Mrs P - Nottinghamshire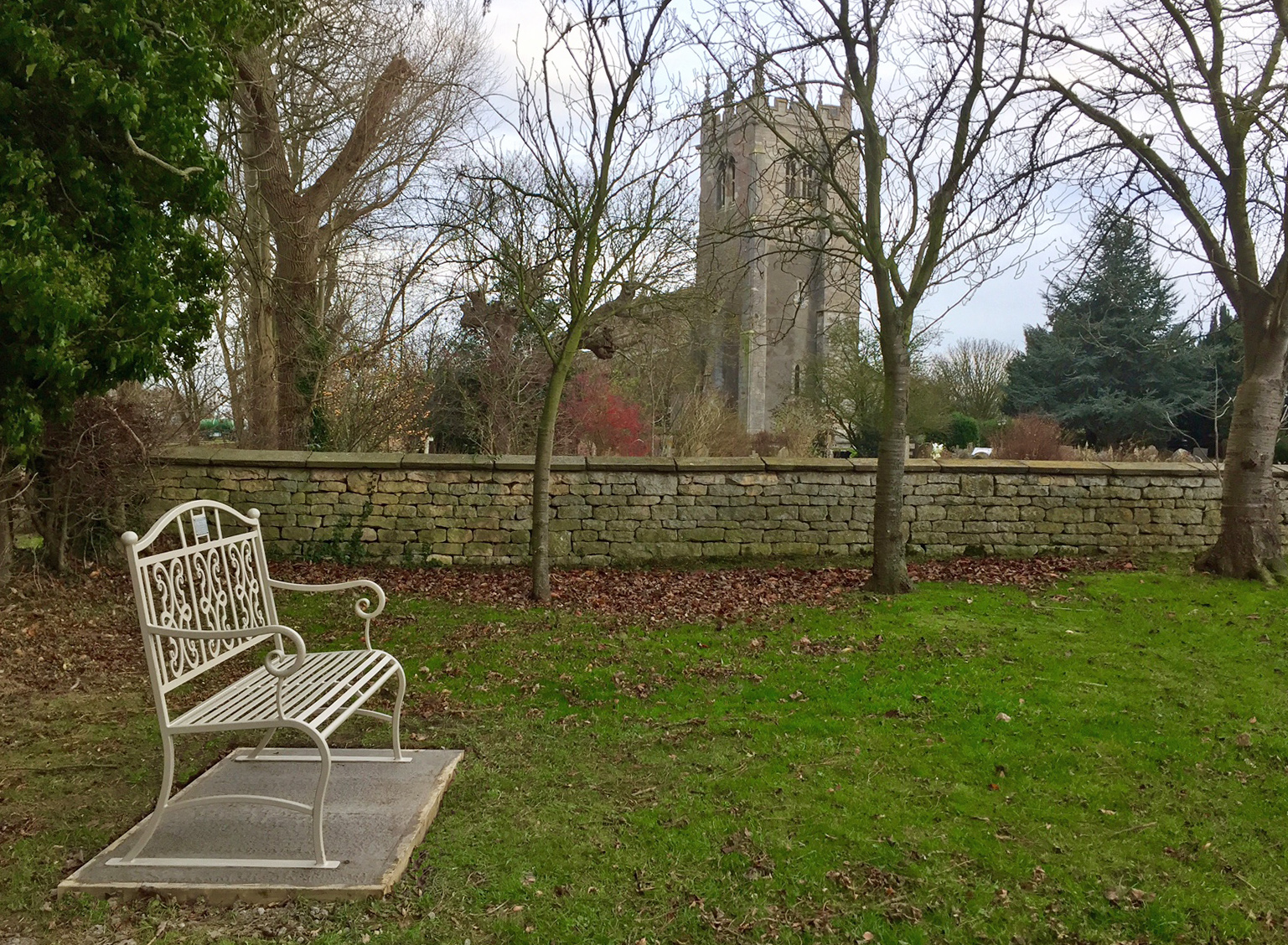 Beautiful bespoke bench
"Thank you so much for the beautiful bespoke bench you designed and made in memory of our daughter it is exactly what we were hoping to achieve. You were all so kind and understanding in every step of the process"
Mrs C - Nottinghamshire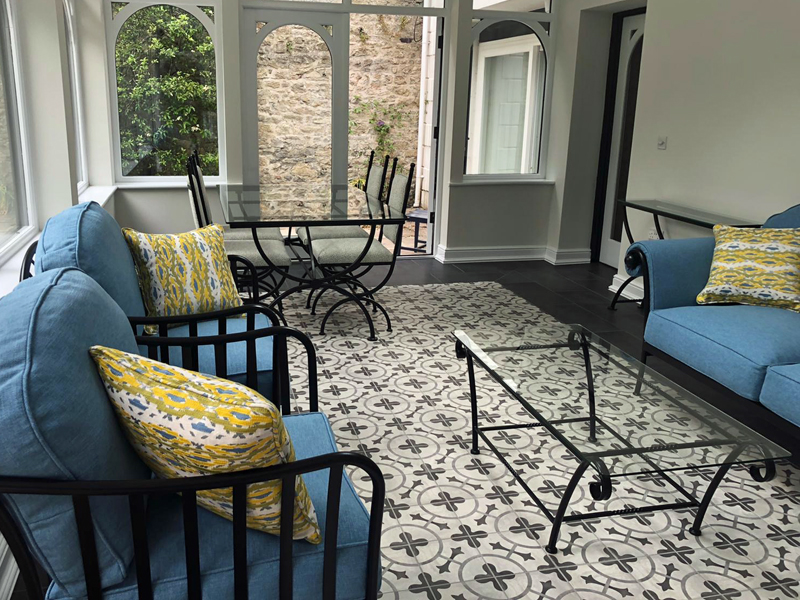 Stunning garden room
"It's impossible to say In a few sentences how delighted with all aspects of the process we have been and how much we love using the room! It was wonderful to visit the showroom, see how everything was made and meet the craftsmen and your family. You made sure that we were happy with every piece and that the sizing was correct for the size of room"
"We are absolutely delighted with the furniture that we ordered from Bennington. Each piece is beautifully designed and serves its purpose well. The combination of metal and glass look stunning in our new garden room and the degree of comfort of the dining chairs and armchairs meets our expectations. We are so grateful to Wendy and her family, and all the staff ,for the excellent care to attention and detail provided to us from the start of our visit to the showroom , through the planning and manufacture , to the finish and safe delivery of the furniture.
Mr & Mrs P - Wales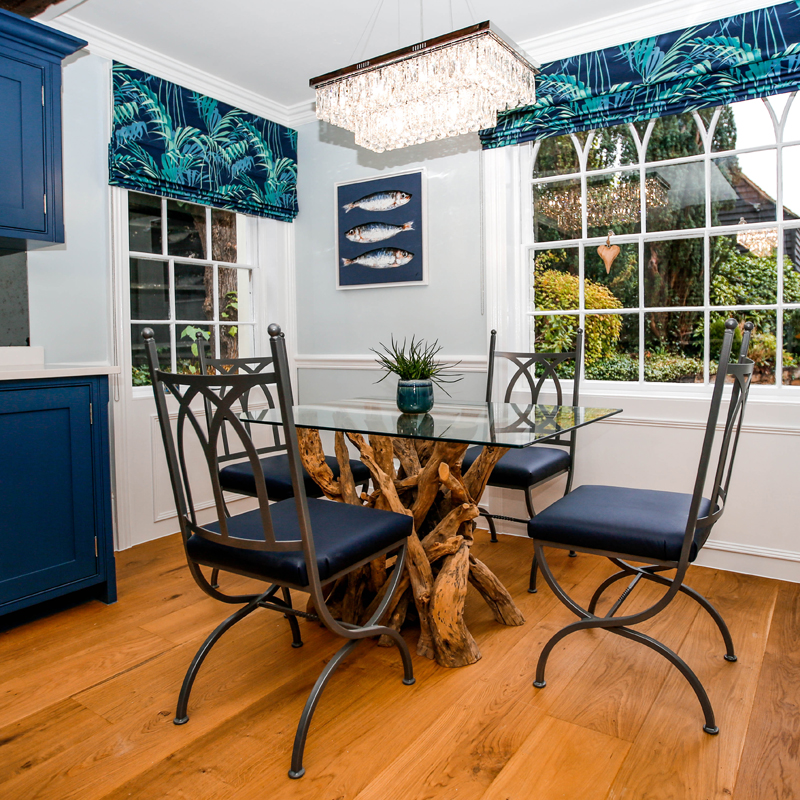 Arch detail windsor chairs
A massive thank you to Wendy at Bennington Metal Furniture, a pleasure to meet her talented father who assisted in the bespoke design, manufacture and supply of the chairs. Equal thanks to the very talented Giles Ward for the signed, commissioned artwork. Also, our thanks go to Jayne at "Doris Brixham" for the beautiful table. All parties have been a pleasure to do business with, all parties performed faultlessly. We are very grateful to you all for making our vision a reality. We wish you all the best going forward.
D & C - Hertfordshire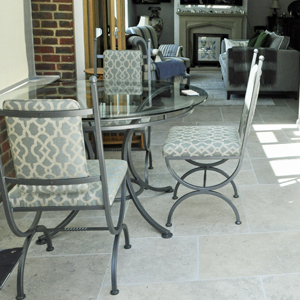 Windsor chairs & Tuscany table 1200mm glass top, Bennington rocking chair
"I cannot express my delight and pleasure in receiving your beautiful Bennington furniture - it is gorgeous and I am so happy I decided on the 1200mm table - the fit is perfect and the chairs look FABULOUS. Do please convey my thanks and appreciation to all the team who participated in the making of my furniture, from you, your parents and Simon who delivered it, from your upholsterer, from the metal makers to the powder coating...etc... etc.... The quality and finish.... well, I am almost at a loss for words. Bless you for your patience, when I dithered about size and fabric. I am thinking about a console table that might fit in very nicely. In the meantime, I am enjoying it all"
EH - Hampshire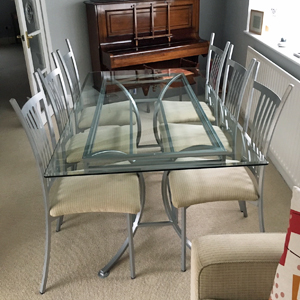 Bennington Bespoke Tuscany Table and Tuscany Chairs Made in 2003
'Hopefully never too late, but we would like to let you know how thrilled we have been now for 15+ years with our dining room table and chairs. Please feel free to add us to your testimonials.
We have been delighted with our dining room table and chairs from Bennington Metal Furniture, they were very accommodating to our choice of fabric and design. A great quality piece of furniture and design. Thank you'
Mr & Mrs P -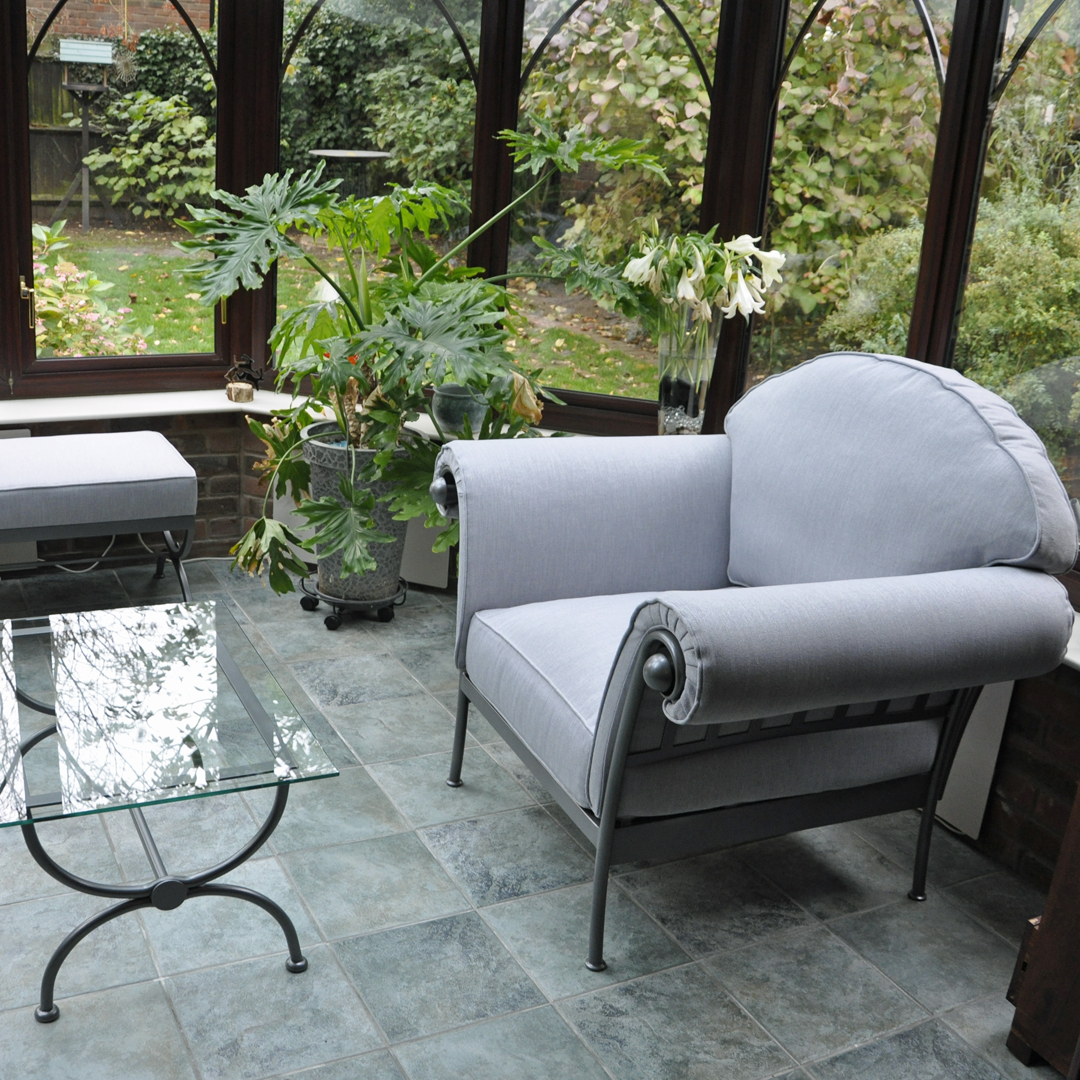 Sorrento chairs and bespoke footstool - metal colour pewter
"Hi Wendy, just taken delivery of our new furniture and we couldn't be more delighted! It's all gorgeous and completely compliments the conservatory decor.
Thanks to Simon for a sterling job in negotiating our doors and furniture (and dogs).
The build quality and cushion construction are both awesome -we are so pleased
Thanks to you all at Bennington-great product and super customer service"
Mrs C - Nottinghamshire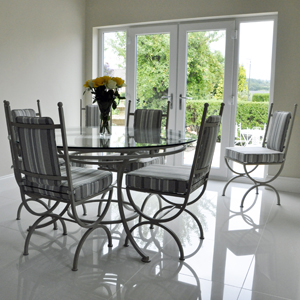 6 seater Tuscany table with Windsor dining chairs - metal colour stone
"I can't tell you how delighted I am with my dining furniture!
The quality, attention to detail and your patience have made this purchase a quite exceptional journey!
As promised, please find a few words of appreciation, which I hope that you will be able to use.
I am not in the habit of writing reviews, but, on this occasion, my experience when buying a dining suite from Bennington Metal Furniture simply demanded it!
From the outset, nothing was too much trouble and the patience shown over my deliberation about the colour was truly amazing.
The quality of the manufacture is outstanding, and the care taken on delivery was excellent"
Mrs H - Derbyshire
Tulip Table
"We are really delighted with our tulip table made to measure (1300mm) by Bennington. The satin black is really luxurious looking and I ordered the bowl to go underneath. Denise and Wendy were very helpful organising photos and even offering to raise the height of the base if need be. Very happy!
Mrs L - Kent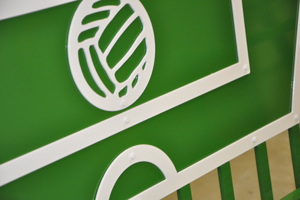 Bespoke remembrance bench
"Bennington recently made a bespoke memorial metal bench for our Founder. I found the company to be very helpful and understanding to our specific need. As we were designing the bench ourselves I found their staff very patience and extremely helpful with the design. They consulted me during the construction at every twist and turn to ensure that I was happy with progress. Our Bench arrived on time, in fact a day early, and at the price we had agreed. The quality of their work was outstanding and the attention to detail exceptional and they were a delight to do business with and provided a personal service that inspired confidence. I would certainly recommend them and use them again myself"
Andy Butcher, Morden Little League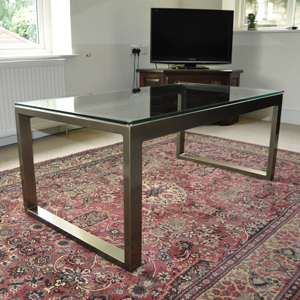 Cube coffee table
"I am very pleased – it looks like it was made for the room – though of course it was! Your bespoke service is truely excellent.
I would recommend any one looking for high quality metal furniture to come to you."
Mrs S - Lincolnshire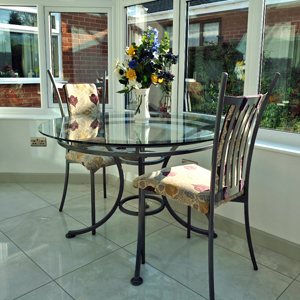 Tuscany Table & Tuscany Chairs with additional padded backs
"We found Bennington' on line and were impressed by their range of metal conservatory furniture so visited the showroom for a closer look. The furniture is of high quality and the owners were very friendly and could not do enough for us, bringing out various table and chair styles for us to try and taking care of us with pots of tea"
"The Tuscany table and chairs we chose are ideal for our room, we requested that the chairs had an additional padded back and Wendy was happy to accommodate our request. The owners kept in touch with us throughout the process and the furniture was delivered on schedule. We couldn't be happier with the finished result and have absolutely no hesitation in recommending Bennington Metal Furniture"
Mr and Mrs P - Leicestershire"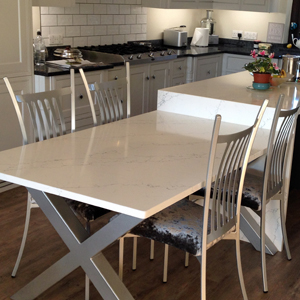 Cavaletti Table Base & Tuscany Chairs
"We needed table legs to support our granite table top and travelled over 2 hours to see what Bennington Furniture could do for us. On arrival we were greeted with a cup of tea and nothing was too much trouble for Wendy and her team. They altered the design of the legs they had on display to meet our very specific requirements and their "can do" attitude was very refreshing. We were kept constantly informed of progress and they kept to their word. The legs and frame are of exceptional quality. It has truly been a pleasure to do business with such an efficient and friendly company. We would have no hesitation in recommending them. They were quite a find."
Mr & Mrs P - Warwickshire
Inserted Granite Coffee Table & Shelf
"Bennington recently made a metal coffee table for me with an inset flagstone top. I found the company on line and used them because I liked the look of their designs and their sensible, clear website. As I was providing the stone top myself, it was necessary to modify their design slightly. They were flexible and businesslike, and subsequently consulted me during the construction to ensure that I was happy with progress. They are a very professional company that produced exactly what I had asked for, on time and at the price we had agreed. I have been most impressed with them, not only for the quality of their work but also because they were a delight to do business with and provided a personal service that inspired confidence. I would certainly recommend them and use them again myself"
Mr F - Hampshire
Bespoke Milan Table & Windsor Chairs - Fixed Base
"We are delighted with our table and chairs. We particularly appreciated the assistance in finalising the design while the workmanship is of the highest quality"

Mr & Mrs S - Essex.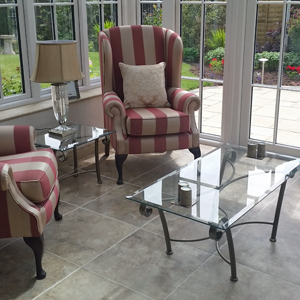 Bespoke size Sorrento coffee tables
"We found Bennington's Metal furniture on the Internet and from the moment of our initial enquiry the quality of the customer service could not be faulted. We were booked an individual appointment where we were able to choose our tables. The advice given and attention to detail was first class and in addition we were given a tour of the workshop, which was really interesting.
We were kept informed of the progress via e-mail which included photographs at individual stages. This was to ensure we were happy with everything.
When we collected the finished tables we were delighted with the quality and they have complemented our furniture perfectly. Wendy and the team were a pleasure to deal with throughout"
Mr & Mrs B - Warwickshire.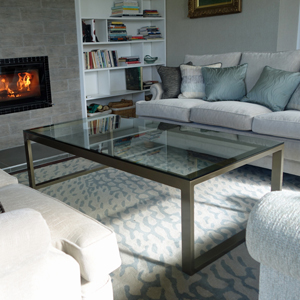 Bespoke Cube coffee table
"The lads have just delivered the table. It looks great, beautifully made and we're absolutely delighted!"
Mr & Mrs W - Shropshire
Windsor Dining Table and Chairs
Windsor Dining Table and Chairs
"The table and chairs are perfect, and has had a lot of use and many compliments"
Mrs K
Tulip Table & Padded Back Chairs
"We are very pleased with the Bennington Tulip table set. The central display bowl is very attractive and when not needed can be replaced by a simple finial. The chairs are comfortable and at the right height. We are happy to endorse the set. It is very good value for the price"
Mr & Mrs B
Tuscany Table & Windsor Chairs
"We are delighted with our table and chairs which really complement our conservatory and add a 'touch of class'. The chairs are very comfortable and both the table and the chairs are beautifully crafted and finished.
We were also delighted with the service that we received from Bennington Metal Furniture. Nothing was too much trouble and the table and chairs were delivered on time. So, we are very happy to recommend them.
Thank you again for your excellent service, we really are delighted with the table and chairs"
Mr and Mrs S
Windsor Dining Table, Windsor Chairs and Windsor Console
"Pauline and I are delighted with the dining furniture and it looks like it was always meant to be where we have put it. Thank you "
MD of The Sterlingham Co.Ltd