Made in England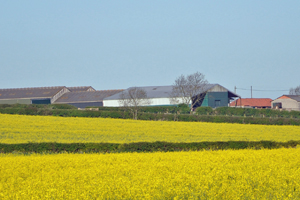 Made with passion. Made in England.
Our story is one that begins in the late 1960s, with our family business starting to make horseboxes and trailers. The 1970s saw us begin making horse drawn carriages and now Bennington Carriages is recognised as the world's leading producer of carriages. We proudly hold a Royal Warrant and supply carriages to discerning clients in over 20 countries.
In the late 90s our founder, Michael, found himself unable to source the high-quality garden furniture he was seeking and decided to make his own. With world class metalwork, paint and upholstery skills in house, Bennington Metal Furniture was born… Our mission then was the same as now – to make the very highest quality furniture for the home and garden that will last a lifetime.
In 2007, to accommodate our continued growth, we began a long-term project to convert a disused dairy farm on the outskirts of Long Bennington, on the borders of Nottinghamshire, Lincolnshire and Leicestershire, into purpose-built workshops and a showroom. Set in 10 acres of rolling countryside, we are proud to have such wonderful surroundings in which to produce our incredible furniture.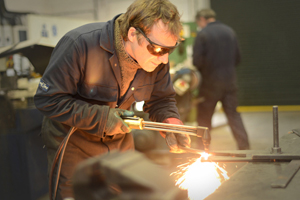 Designed with care. Made by hand. Built to last.
From the outset, all of our furniture is designed with a single goal: to be the best it can possible be. This means careful design, the best quality materials and the finest manufacturing techniques to ensure that our products can genuinely "last a lifetime" – be they from our standard range or bespoke to specific customer requirements.
Our process starts at our Long Bennington workshops by selecting the best quality mild steel or aluminium, which is then fabricated by hand using both traditional techniques and the very latest technology. Once fabricated, each piece is inspected and meticulously hand cleaned to ensure weld seams are perfectly smooth. Each piece is then shot blasted to provide a flawless surface, before being subjected to a final inspection before being transferred to our painting workshop.
Whilst the "little things" are often overlooked in modern manufacturing, all of our team are passionate about ensuring that every detail is considered and that our furniture is made to the same quality as our world renowned, Royal Warrant bearing carriages. Our head engineer David takes overall charge of ensuring that every inch of metalwork that leaves the workshop is perfect.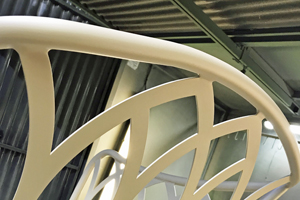 Painting with powder to create the ultimate finish.
After many years of experimenting with countless types of paint, we are firmly of the belief that for furniture, nothing beats Powder Coating.
Once ready for paint, our expert painter Chris undertakes a full inspection before beginning the painting process. The first step is for outdoor garden furniture to be give a galvanisation coat which helps protect it from the elements. Then the furniture is taken to our paint bay, where it is suspended in a water-wash booth, which minimises dust and particles to maintain the flawless finish. The furniture is then coated with paint "powder" via an electrostatic gun and then transferred to our large paint oven where it is baked to create an elegant yet resilient finish which will retain its beauty and lustre for many years. In a an extensive range of colours and textures.
Once finished, Chris undertakes a final inspection before being transferred to our upholstery workshop.​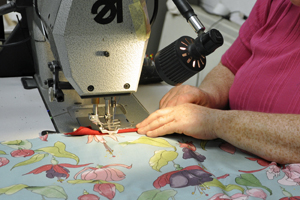 Bespoke upholstery. A million options.
Like all of our metalwork and paint, our upholstery is also completed in house. Our resident upholsterer Brigid is a highly skilled artisan who has over 30 years of experience producing the most complicated upholstery.
We only use the highest quality fabrics from leading designers such as Linwood, Warwick, Swaffer and Kobe, plus cushion fillings from a range of British manufacturers. By having literally thousands of fabrics available, plus countless options for edging, stitching and scatter cushions, our customers literally have millions of options available. We are proud to say that we have never made the same item twice!
We can use client supplied fabric if required, as long as it meets the relevant quality and safety standards, and enjoy working with clients to source the perfect fabric to create their desired look, no matter how challenging!​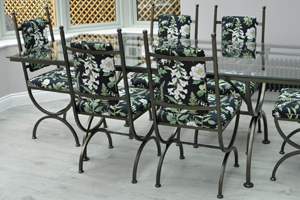 Unique. British. Quality.
We are delighted that over the last 20 or so years, we have created thousands of beautiful items that have been used in countless settings. From furniture and panels for gardens at Chelsea Flower show and Gardeners World Live, to benches in Long Bennington and at the Belvoir Estate. From creating the perfect footstool for a country cottage to manufacturing incredible four poster beds for grand houses in London. From creating exquisite Cinderella beds for of children to creating dining tables to seat 2 to 12. From the personal designs of our customers to designs from some of the UK's leading interior designers.
Every item we create is unique, manufactured to order and to the standards that we have built our reputation on over the last 20 years. We never see problems, just opportunities and thrive on challenge.
With our talented team of artisans, we are proud to be Bennington Metal Furniture.