Welcome to Bennington Furniture
Via this platform we intend to keep our Customers up to date with some of the things that are going on at Bennington Furniture, or write about things that we think may be useful to you.
To start we thought we would tell you a little bit about ourselves and what we do.
Bennington Furniture came about when Michael Mart the founder of our sister company Bennington
Carriages was searching for some quality furniture for his family home. After a long a fruitless search he could not find anything that lived up to the standard of exceptional craftsmanship by which we built our Carriages, so he decided the best thing was to get it built himself. Bennington Furniture was therefore born to make stylish metal furniture, built with the same standards and attention to detail as our award winning Carriages.

Our highly skilled team designers and crafts people are tasked with building metal furniture that will compliment any home. We use the best possible materials including designer fabrics, glass and granite from suppliers that we have been working with since the birth of the company.

We also believe strongly in customer service and we remain a family run business with Michael's daughter Sue now in charge of the day to day running of the business.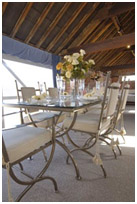 It is our aim to build furniture that you are proud to display in your home or garden, so why not visit our show room, which is conveniently located in Long Bennington near Newark in Nottinghamshire. We operate our showroom on a 'By Appointment' basis so that we can provide a one to one service and give you our undivided attention. You can make an appointment by contacting us via the details on the website. However, if you are unable to visit us in person, we are also happy to discuss your requirements over the telephone instead.

We hope this gives you a brief overview of what we do and how we got here, keep coming back to learn more about what we have to offer.