Bennington open day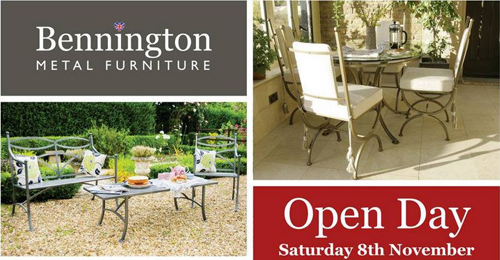 With Christmas on the tip of everyone's tongues even though we haven't quite got Halloween out of the way just yet, plenty of us are already busy planning our menus, guest list and wish lists to ensure that we have plenty of time and resources to get everything just right.
Having family over is always warming around the festive period, but making sure you have enough space, chairs and dining furniture for your guests, decorations and menu items, can be stressful.
It may only be October, but we at Bennington Metal Furniture thought what better time to give you a break from all this planning than with a welcomed open day, an opportunity for all of our current and new customers to gather for tea and cakes, provided by us, while exploring not only our new showroom but our new ranges which could just tickle your fancy and seat your guests this Christmas period.
Tulip
New to our current designs is the Tulip table design. A stunning, elegant and graceful metal design which showcases all that is great about aluminium, available in a wide choice of colours.
A circular table, it allows space for all of our guests to socialise freely this Christmas, while allowing for plenty of room to dine, and even pull a cracker or two.
What's particularly attractive about our latest design is that there is room for a circular ball as a centre piece, underneath the table, meaning that you can place champagne, a floral display or even confectionary to add that extra sparkle to your dining occasions.
Choose from two specific diameters and match with our new lightweight Tulip chairs, available in a variation of colours and fabrics to suit you.
Bespoke
While we're extremely excited about showcasing our latest designs, we're also hoping that our open day will offer an opportunity for new and existing customers alike to appreciate our bespoke service which offers metal furniture designs which are tailored to your styles and requirements.
Why not take the opportunity to discuss your ideas with one of our members of staff over tea and cake?
New location
Having recently moved from our older location of Sparrow Lane to our new premises at Moor Lane in Long Bennington, we want people to know that we at Bennington Metal Furniture are still very much active and making furniture for a variety of industries and customers.
Experience our workshops first hand and see how our furniture is made. Come along and take a look around on Saturday, November 8 from 10am until 4pm.
Contact us today to find out more.