Furnishing your kitchen/diner
Your kitchen is a functional space within your home which offers room for creative recipes, practical uses and storage but with new innovations in open plan living and design, the kitchen has now extended into dining spaces with kitchen diner living spaces.
While many people may consider the combination of the two rooms slightly overwhelming, a joint kitchen and dining space can provide some excellent opportunities for sociable entertaining, dinner parties and boasts excellent practicality.
In small spaces, utility is important. If you live in a smaller home with a combined kitchen and diner then maximising the use of such space will help, while those with bigger homes and a combined kitchen and diner can assign the joint space for particular dining occasions while using an additional dining room for more special occasions.
However you choose to use your kitchen/diner space, we at Bennington's can provide the right types of metal furniture for your needs.
Here we take a look at just some means of furnishing the dual space in your home.
Family room
With our hectic working lives and busy lifestyles it can be hard to find the time and the right spaces to spend quality time with family members, particularly children.
With an open planned kitchen diner, you can make meal times more of a sociable occasion, even adding value to your home with the right pieces of furniture.
It is unlikely you will want the kids getting in your way while you are preparing dinner, so sitting them at a table to do their homework or take part in a table based activity such as modelling will free up your time and space to get on with the dinner.
Consider one of our tapered leg tables, rectangular and with a glass top that is easily cleaned and maintained without being prone to scratches or damage. This also provides the kids with the perfect flat surface to work on.
The square design is also in a sociable shape and comes in 4 sizes to enable you to cater for as many or as few family members as you wish.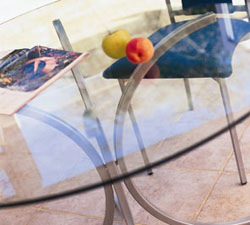 Breakfast room
If you have a large home with a separate dining room, but also a large kitchen, why not consider transforming your kitchen space into an area for breakfast dining?
By dividing the space between the cooking and the eating with a simple island you can produce an open space which is guaranteed to get the morning off to a bright and open start. Perhaps somewhere the whole family can eat breakfast before starting their day.
Our Milan glass table is a graceful and subtle addition as a breakfast table and is available to seat up to 5 people. Made from toughened glass and in a stunning oval shape, the table and Milan chair combination provides a more informal shape to that of the traditional rectangular tables used for dining rooms and is a beautiful platform for breakfast dining for the whole family making sure you're comfortable too.
Entertaining
When you've got guests over for dinner the last thing you will want to be doing is running in and out of your living room and kitchen to ensure that you are giving both your food and guests balanced attention.
Choose a decent sized dining table which is aesthetically pleasing and inviting and one that offers enough space for guests to clink glasses and eat. Also choose comfortable chairs that will let guests sit in your kitchen and chat while you cook.
Make cooking dinner more enjoyable with our easily maintained, combined metal and granite tables from Windsor, available in a varied range of 7 different colours and a selection of designs of chair all in varied ranges of comfort and design.
If you would like to discuss your furniture requirements or want to browse our full range at our Nottinghamshire showroom click here.