Invest in a Console Table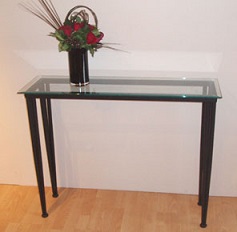 Console tables are often considered as purely decorative but they can incredibly useful. Consider them as a shelf that doesn't have to be put up!
Usually they are slim and placed against a wall. Due to their narrow depth, they are great for hallways, corridors and other narrow rooms in your home. Their name derives from the term 'console' meaning a ledge on the wall acting as a support.
They are great to use as stations for everyday objects that can otherwise be lost such as phone stands, notepads, books, keys as well as to add decoration such as lamps and vases.
Although this is the more common use of side tables there is nothing to stop you from using them for whatever purpose you have in mind. For example, they could be used as a vanity table in a small bedroom or even as little bar in a kitchen as a dining table.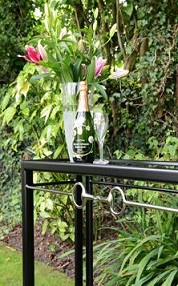 Here at Bennington Furniture we have a range of metal console tables available for customers who want to update or redesign their home. It can often be difficult to find furniture to fit in small rooms of your home without taking away too much space, a console table may be what you've been looking for.
All our console tables are topped with glass as it is an ideal material for tabletops because it's strong, hygienic and allows the beauty of Bennington craftsmanship to be seen. The Windsor console table can also be topped with granite in a variety of colours and patterns as well as toughened glass.
Like all our furniture the metal work can be customised in colour and patterns. The full range can be found here - Metal Colours
We know that not all our customers will be looking for the same criteria when looking at metal furniture and as so, many pieces can be made to your requirements in colour, shape and size. We advise that you visit our showroom to experience the quality of our furniture and to discuss your specific requirements with us. No request is too small – or too complex.