The humble coffee table
Coffee tables are a fantastic centrepiece and a great place for putting all your interesting accessories and books on display to grab your guests' attention.
Often placed in front of or to the side of sofas and arm chairs, they sit at arm's length so your drinks, books and magazines are all within reach. Not only can they be practical but also purely decorative for you to display your most valuable vases and ornaments.
Be careful not to over clutter your coffee table as it is also a thing of beauty and should speak for itself.
A coffee table can set the theme of a room and should be in harmony with the rest of your furniture. Whether it's of a modern cubic block design with simple framing or traditional curved and moulded metal frame, we have a range of contemporary coffee table that complement our range of furniture – ideal for sitting rooms and conservatories.
If you've got guests round during the winter months than make sure you have a suitable table so you can offer drinks and nibbles that everyone has access to.
Our metal coffee tables are resilient to everyday wear and tear and are topped with toughened glass to provide a clean look which doesn't cover up the metal work underneath. We have a range of metal colours that can be applied from stone and bronze to silver blue and copper green whatever colour your other metal furniture might be, we can match it.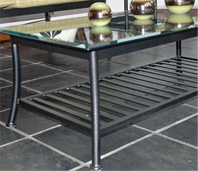 If you've invested in the Blenhiem furniture range in your conservatory then you'd be happy to know that we have two coffee tables in the same design. A complete set of matching furniture can bring elegance and sophistication to any room. The Blenheim Coffee Table is available with or without a shelf and offers a practical storage area to display treasured possessions or to simply store books, magazines and newspapers. Coordinates perfectly with the Blenheim range.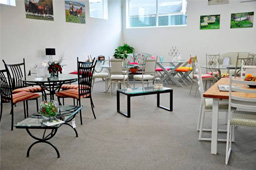 Our metal cubic coffee table is more modern in design and stands bold even in our showroom. This Stylish sleek coffee table is made from aluminium and is also available in a range of metal colours. It would suit any post-modern designed room with its well defined edges and simple shapes, ideal for minimalist rooms.
Remember that all our furniture is made to order and that our craftspeople have handmade your coffee table with care.
Browse our website, contact us to discuss your design requirements or pop into our showroom to experience our metal furniture.